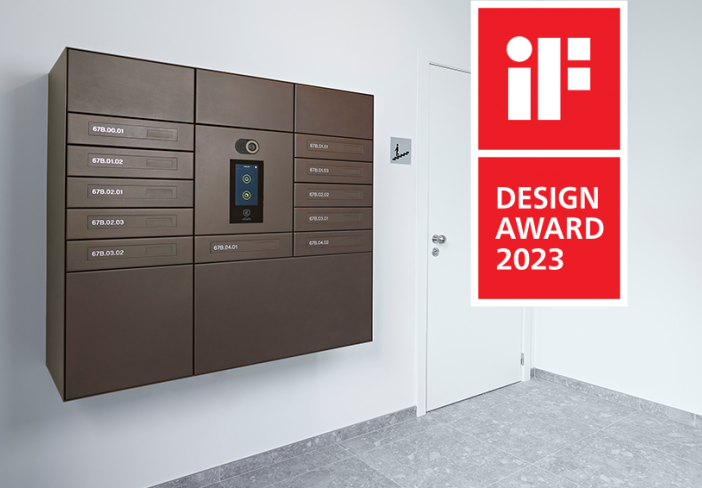 eSafe Wall wins iF Design Award
The ultimate parcel mailbox system for multi-family homes, apartment, companies and businesses.
The eSafe Wall offers a tailor-made solution to any multi-family home or apartment. This ensemble, with electric mailboxes, parcel boxes, doorbells and videophone, is a modular construction based on the available space or desired style, and is available in a RAL colour of your choice. A management portal notifies you of any deliveries made to the boxes, and shows which boxes are occupied and for whom the delivery is intended. 
This modular system also offers a solution for retailers. The shop owner simply needs to provide their customer with a collection code via email so they can collect their order from the parcel box. If you want to receive refrigerated products in your parcel mailbox, or have them collected from there, the eSafe Wall can also be equipped with a cooling module. Companies can unburden their reception area with an eSafe Wall where employees can have their online purchases delivered. 
 
Link between functionality and design
Leon Renson, CEO of eSafe, comments: 'Winning the iF Design Award 2023 serves to confirm to eSafe that we are successfully making the link between functionality and design. That's what we are aiming for all the time. Every building has a mailbox, and we're turning that into an aesthetic solution that can be used by everyone to not only receive letters, but packages too. With our award-winning Wall, we're offering the ultimate functional design solution for multi-family homes and apartments as well as for commercial buildings, all while introducing software and electronics in the traditional mailbox sector at the same time.'
 
eSafe delivers a more pleasant experience
Online sales have seen a boost in recent years, but mailboxes have failed to keep up with the pace. It's easy to buy something online, but having to head out to pick up your purchase adds unnecessary hassle. That is why eSafe has made it its mission to offer a solution — for any type of building — to allow letters and packages to be delivered and collected at home 24/7. What's more: it does so with an eye for design since, after all, the driveway or entrance hall is the calling card of the building. The sustainable and stainless steel aluminium mailboxes are developed with the highest attention to style and detail, which is reflected in the sleek design and hidden locks. These parcel mailboxes come with high-quality powder coating that is available in all RAL colours. 
 
iF Design Award
The iF Design Award has been a seal of quality for outstanding design since 1954. The iF Design brand is known around the world for its excellent design achievements, and the iF Design Award is one of the most important design awards in the world. The award honours design achievements in all disciplines: product, packaging, communication and service design, architecture and interior design, as well as professional concepts, user experience (UX) and user interface (UI).