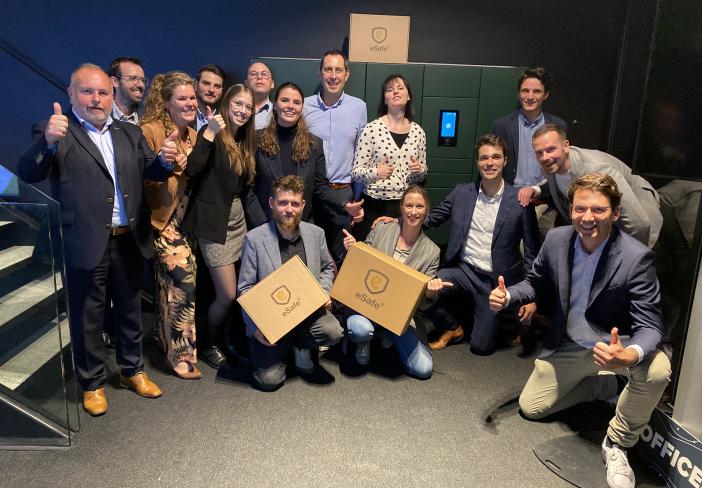 eSafe wins award as a high-growth Belgian technology company
Sustainable and efficient last-mile solution
Leon Renson, CEO of eSafe, comments: "This award is confirmation that eSafe offers not only a sustainable solution, but also the most desirable last-mile solution. Our package drop mailboxes form an integral part of the online purchase experience: people want to easily receive their packages at home and not have to go to courier service-specific collection points or lockers, depending on where they order. Every building has a mailbox, which we make sure can be used by everyone to not only receive letters, but also packages. Whether the building is commercial or residential, we offer the solution that is most suitable in terms of functionality and design. In other words, we successfully combine functionality and design, while at the same time introducing software and electronics to the traditional mailbox sector.

The success of eSafe is the result of the efforts of a close-knit team. Incidentally, due to our strong growth, that team could use a few extra software experts, who can look forward to working at a non-nonsense company that embraces challenges and gives people responsibility."
 
eSafe creates a more pleasant experience
The online market has seen a boost in recent years, but without the corresponding boost on the mailbox front. It's easy to buy something online, but not if you then have to hit the road to pick up your purchase. That is why eSafe has made it its mission to offer a solution – for any type of building – to allow letters and packages to be delivered and collected at home 24/7. And does so with an eye for design since, after all, the driveway or entrance hall is the calling card of the building.

The sustainable and stainless steel aluminium mailboxes are developed with the highest attention to style and detail, which is reflected in the sleek design and hidden locks. The package drop mailboxes have a high-quality powder-coating that is available in all RAL colours. 

Deloitte's 2022 Technology Fast 50
Founded and headquartered in Belgium, the Technology Fast 50 annually recognises the 50 fastest growing and innovative technology companies. Companies that develop a technology-related product and have undergone substantial revenue growth in the past four years are eligible to be nominated as one of the top 50 high-growth technology companies in Belgium. 

The 2022 Technology Fast 50 award was presented on 27 October during the ceremonial Fast 50 event at Deloitte Gateway. Alongside the award for fast growth, an award is also presented for Most Sustainable Growth (continuous growth in recent years), for which a winner is announced in nine categories. Companies in the technology sector that started up less than four years ago are eligible for the Rising Star category. The jury bases its decision on turnover potential and scalability.